You are invited to join us for the Annual Club Zion "Live Nativity" taking place in front of the church on the evening of December 23rd and 24th from 5:30 to 7:00 pm! The nativity is open to the public and there is no cost to attend.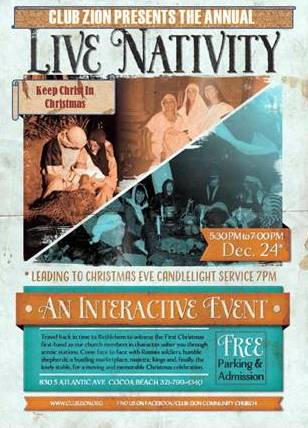 Please invite your friends and family to experience a journey back in time to the town of Bethlehem and become a witness to the sights and sounds of the birth of our Savior Jesus Christ. The nativity consists of a series of displays that you can walk through and interact with the nativity cast members who will remain in character as they speak with you.
First you will be greeted by two Roman Soldiers who are taking the Roman Census;
Then you will pass by shepherds in the fields of Bethlehem;
After you pass through the fields and interact with the local shepherds you will enter the town of Bethlehem;
In the town, you can visit the Inn where Joseph and Mary were told that there was no room for them. You can mingle with the Inn Keeper and the people who are staying at the inn;
There will be a market place where the local people will be able to interact with you and guide you through the town;
There will be a group of "people of the day" hanging around a fire pit sharing Scriptures, totally unaware that the Savior has been born;
You can visit the stables where the manger is located and you will be able to interact with Mary, Joseph, the Wisemen and shepherds.
Then the angel said to them, "Do not be afraid, for behold, I bring you good tidings of great joy which will be to all people. For there is born to you this day in the
city of David, a Savior, who is Christ the Lord.

Luke 2:101-11