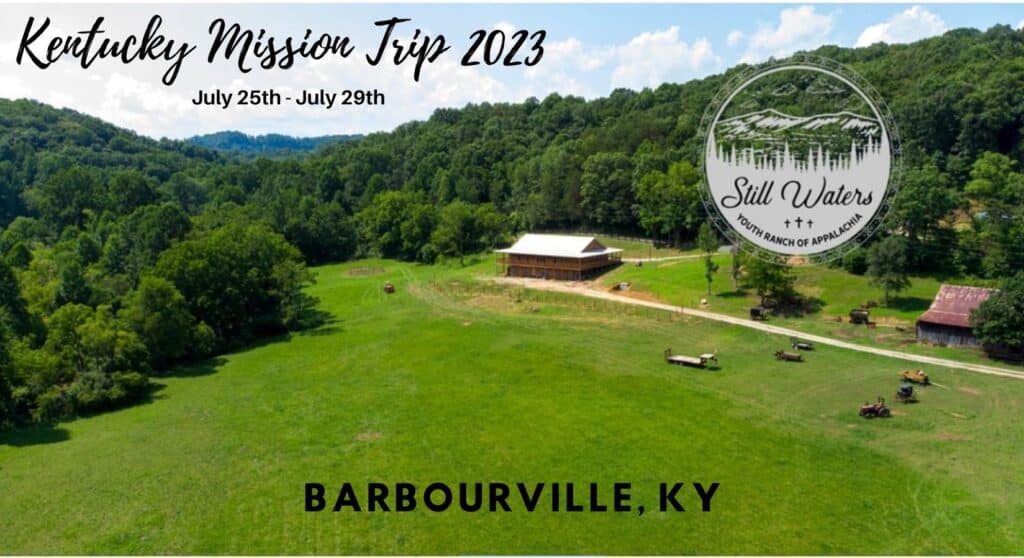 Kentucky Adult Mission Trip
July 25th – 29th 2023
For more information please contact the Church Office at (321) 799-4340 or email at info​@clubzion.org
Base Camp Location:
Distance:
Approximately 768 miles from Cocoa Beach, a 12-hour drive. We recommend you plan on two days of driving (leave Monday & arrive Tuesday)
Mission Activity:
Helping to seal the Still Waters Youth Ranch of Appalachia's house and deck as well as install fences. SWYR plans to offer 5 homes on 125 acres to children who have been orphaned by the drug epidemic. Additional work could be included and will then be determined closer to the trip date(s).
Lodging:
The First Baptist Church provides free lodging in a gymnasium that has separate showers & restrooms for men and women.
Multiple rooms permit men, women, and couples to sleep in separate rooms – bring your own air mattress or cot, bedding, towels, toiletries and earplugs (WIFI is available).
A church washing machine & dryer are available. Local stores are close if you forget something.
Food:
Club Zion will furnish all food, drink & snacks beginning with dinner on Tuesday through breakfast on Friday – a total of 11 meals.
If you have a MAJOR food allergy, please advise the office and the Hospitality Ministry Leader, Melony Kelly, and we will do our best to accommodate you, but it is not always possible.
Cost:
Please make all checks of $150 payable to "Club Zion Community Church"
The mission trip fee pays for all food, snacks, drinks, supplies, misc. trip expenses, and for some of the expense of materials used in renovation
Any mission fees or donations inexcess of actual mission trip costs will be used to support Club ZionCommunity Church ministries and activities
Other Mission Costs:
Travel costs to the site: gas, food and lodging to Barbourville and returning home is the responsibility of each missionary
Car-pooling is strongly encouraged to minimize out-of-pocket expenses
** Mission trip costs including travel are generally tax deductible provided you itemize deductions and your primary trip activity is mission work – please check with your personal tax advisor **
MISSION TRIP RULES
No cursing
Appropriate dress at all times
No leaving the building after lights out
No smoking anything during the mission trip
No drinking alcohol at any time during the mission trip
All mission trip plans and activities are subject to change
Attend morning devotions & evening devotions when held
Do not leave the worksite unannounced – stay with the group
Club Zion Community Church Previous Mission Trips.
Kentucky Mission Trip July 2022 Video and Pictures